E-Monsters¶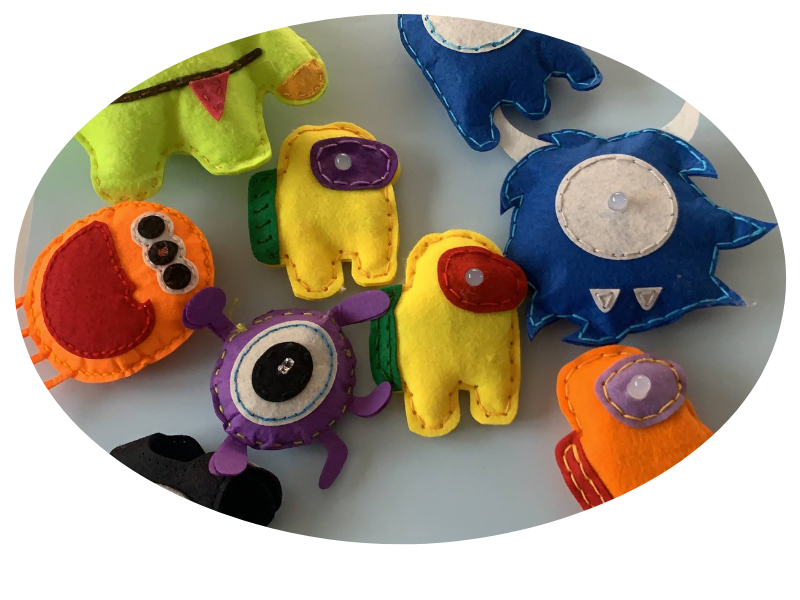 | Path | Target | Duration | Skills |
| --- | --- | --- | --- |
| Curiosity | Kids 8 to 18 | 1,5 h | Electronics, Sewing, 2D Digital Fabrication |
Introduction and context¶
Abstract
Interactive monster is an activity that supports the learning of electronic textile through play and making. The activity aims at introducing participants to electronics and sensors as part of the interaction between objects and exterior The purpose of the learning activity is to generate an added value to textile projects
Learning through play is one of the methodologies used in kids' learning, where children invent and share their own games and DIY toys based on age, likes and interests. With Learning Through play, children can develop social and cognitive skills, mature emotionally, and gain the self-confidence required to engage in new experiences and environments (Wikipedia, 2021) Learning through making is another core methodology in the Fab Lab and makerspace environment. Martinez (2014) emphasizes that "Learning through making, both at schools and afterschool activities is contributing to the creation of a safe environment for kids to play, discover, tinker, experiment, activate their creativity and develop their fine motor skills".
The use of DIY smart dolls has already been introduced by known authors, for example Leah Bueckley in her book Sew Electric
Intro
The duration of this complete activity (electronic circuit + sewing the character) is 1h 30' including a short introduction to electronics concepts and new "smart" materials like velostat.
For a more advanced level, where children have knowledge of digital design, the fabrication of a customized character can be considered, for which the use of a laser cutter is also required.
In this case, it is advisable to divide the activity into 2 sessions, in order to proceed with the cutting of the characters.
The ideal number for each group is 8-10 kids. One instructor is needed for each group.
Objectives
Understand how an electronic circuit works
Create different colors by mixing the colors of a RGB LED
Get an overview of different conductive and non-conductive materials
Be able to build an interactive circuit with crafting materials
Understand how sewing is part of a much broader field than textile fashion
Get introduced to possible projects that can be done with electronics and different type of sensors
Target audience and context of use
Kids, families, educators with interest in learning electrical concepts with simple materials just to learn or to apply this knowledge in the classroom in a ludic way.
This activity can be celebrated in different places like schools, labs or museums. Set up a collaboration between your lab, material centers and a cultural center or museum.
The recommended number child participants is 8-10 individuals per group and instructor
Preparation and materials¶
Dive into the slides presentation provided here, to create the monster step by step. Prepare the kits of materials for each participant and also prepare the instructor's monster to show it to the participants.
Kit of materials for participants*
Be careful. Check you have all the tools and materials needed and that you will have time to wrap up your tools, set up the logistics for the event room.
Prepare in advance: - Precut monsters - Kit of electrical components (Battery, RGB LED, conductive thread) - sewing kit (needle, scissors and thread) - ruler, pencils…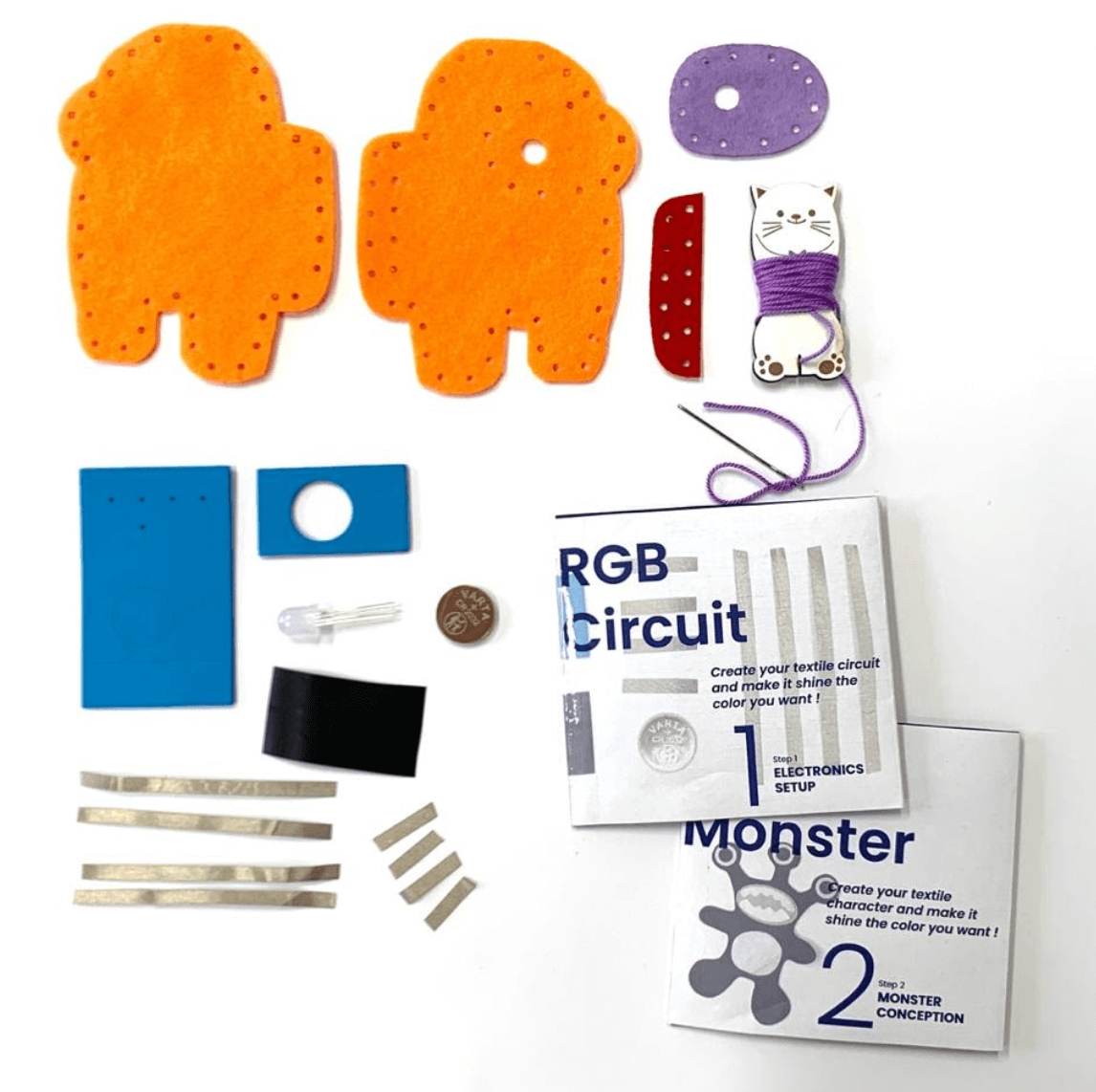 Equipment, Tools and Materials
Computers (for the advanced level)
TV or projector to share the presentation
Tables, chairs (conseider social distance depending on covid situation)
Lasercutter
Covid-19 individual tray containing: -Ruler -Tweezers -Scissors -Glue -Wood colour pencils -Colored markers
Round point needles
Precut felt monsters (combined colours for the different parts)
Coloured yarns for crochet
Adhesive tape
RGB LED Common cathode 10mm
3mm Foam to make the circuit
Velostat
3V CR2032 Battery
Conductive 5mm tape (preferable textile)
Step by Step Instructions¶
STEP BY STEP overview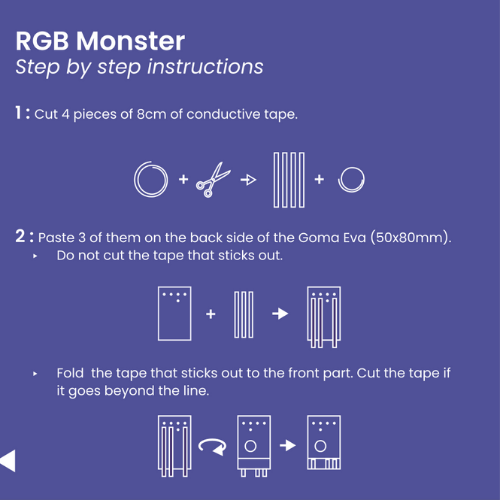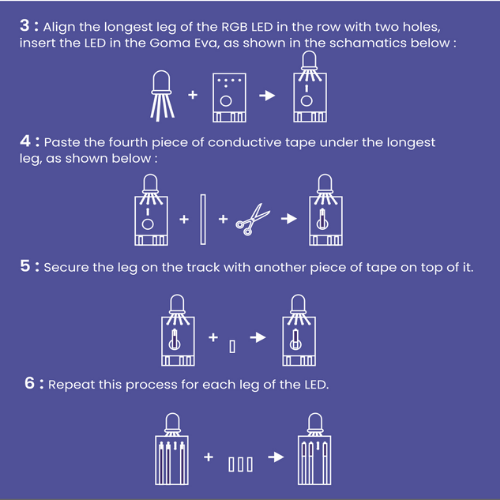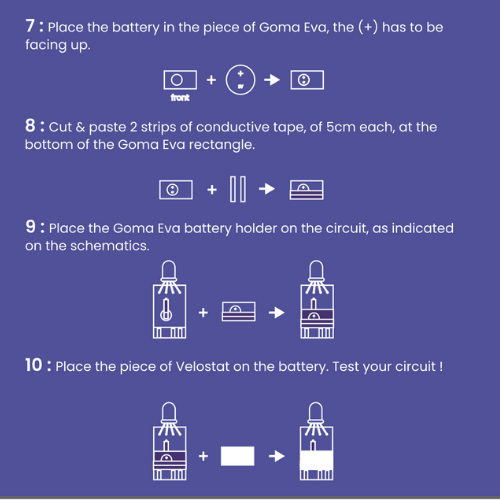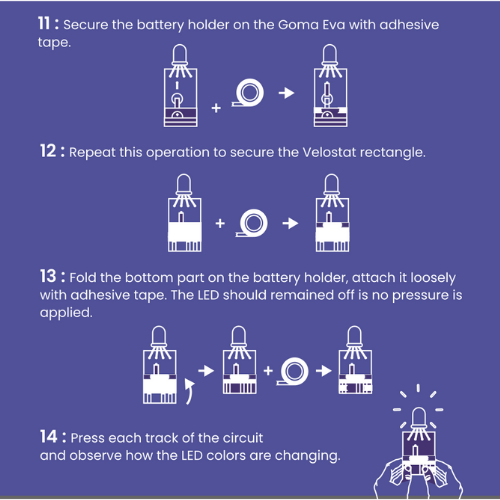 Safety rules & Tips
Needles should have round point
Textile conductive thread is much better than copper tape
For the younger girls and short time it is better to pre cut the pieces of conductive thread
Presentation for the class
Flyer for participants
Part 1: RGB Electronic circuit
Part 2: Design of the monster
Downloadable¶
Tips to facilitate the activity in context (to-do / not do)¶
To do: - Explain the outcome of the workshop at the begining of the workshop - Give kids the opportunity of applying their creativity offering different coloured felt - Prepare made examples for the different steps to show to the kids
Not to do: - Work in a hurry - Deliver the material in a disorderly way
Estimated cost
This is the BOM (Bill Of Materials) but, always consider to find local providers.
| Name | Quantity | Provider 1/Link | Cost/Quantity | Provider 2/Link | Cost/Quantity |
| --- | --- | --- | --- | --- | --- |
| RGB LED Common cathode 10mm | 1 | Amazon | 11€/10pcs | Digikey | 0,84€/ud |
| 2mm Foam | 50x80mm + 50x20 mm | Amazon | 9€/10 A4 shhets | | |
| Velostat | 50x20mm | Farnell/Adafruit | 6€/11 square inch | | |
| 3V Battery CR2032 | 1 | Amazon | 8€/20uds | | |
| 5mm Conductive tape (textile preferable) | 50 cm | AMAZON COPPER | 9€/20m | ALIEXPRESS | 2€/20m |
| Scissors | here | Amazon | 2,8 € | | |
| Round point needle | 1 | Amazon | 7€/20 uds | | |
| Yarn for crochet | 1m | Amazon | 16€/10 bobins | | |
| 2mm Coloured felt x4 colors | A5 | Amazon | 10€/30 A4 | | |
References¶
e-monster in a museum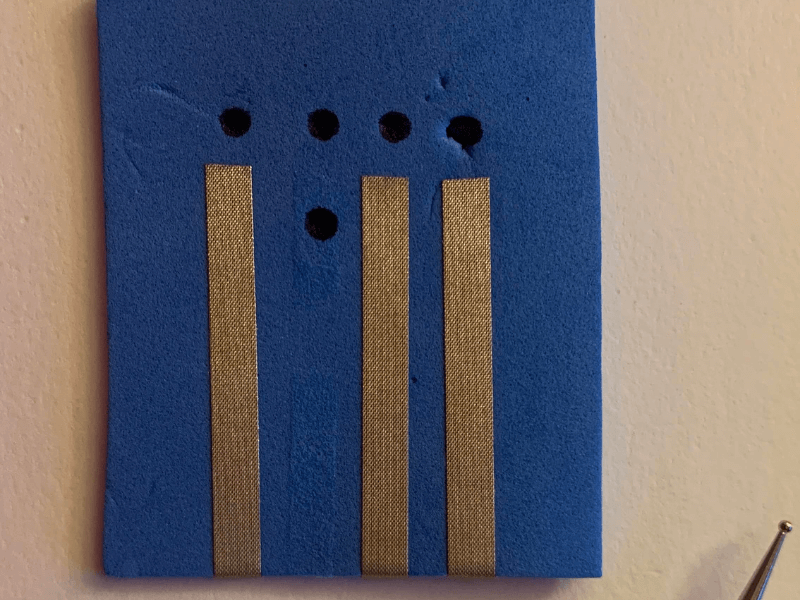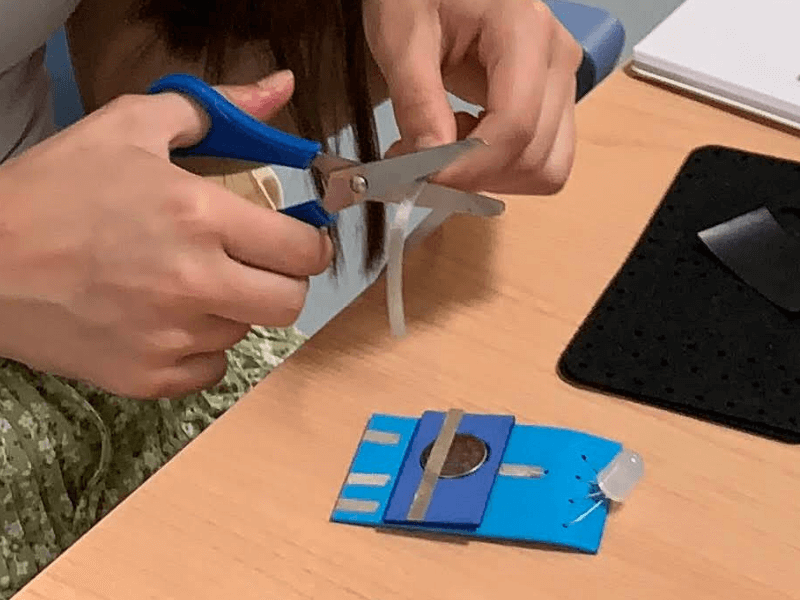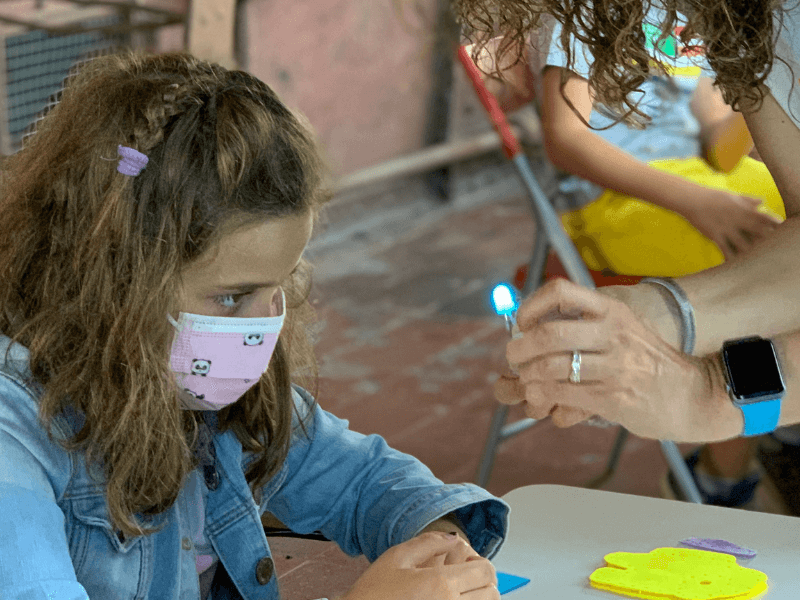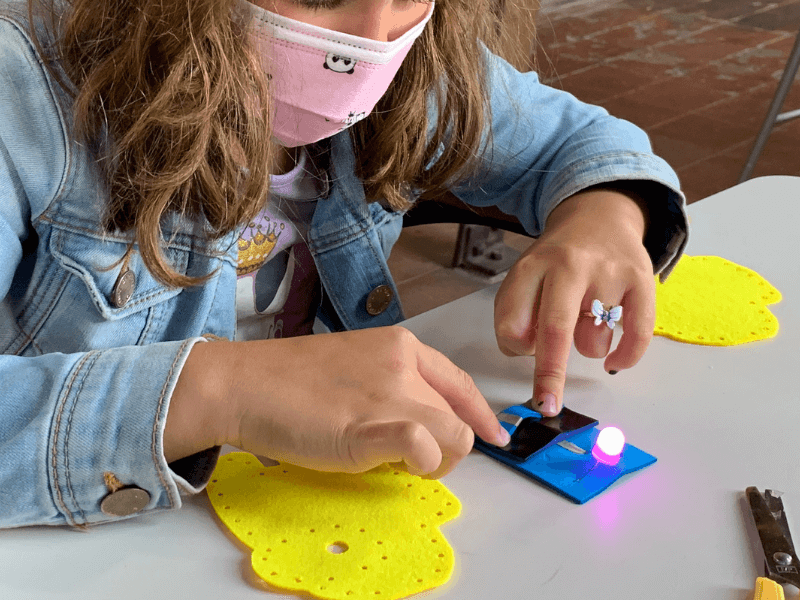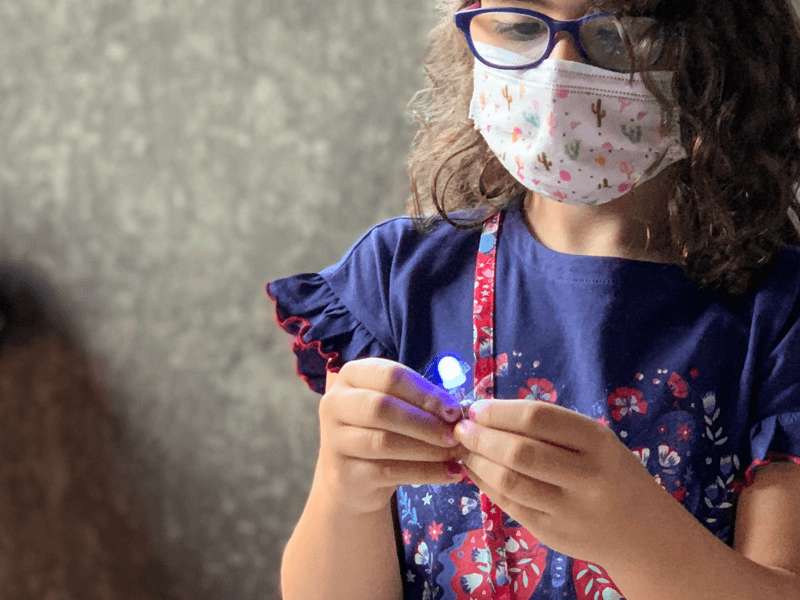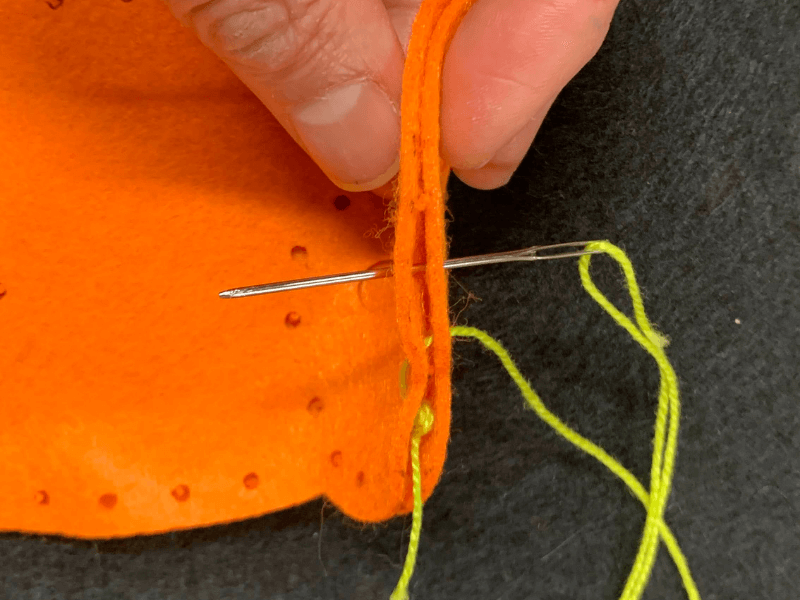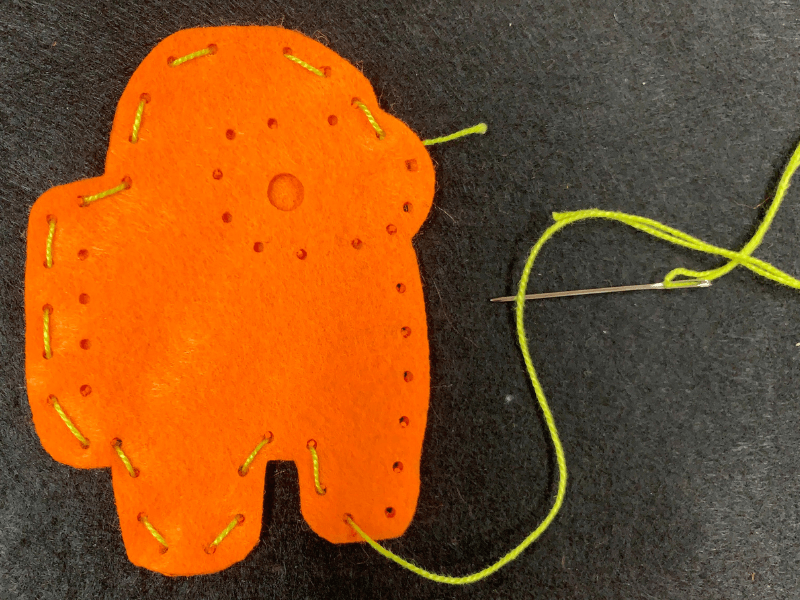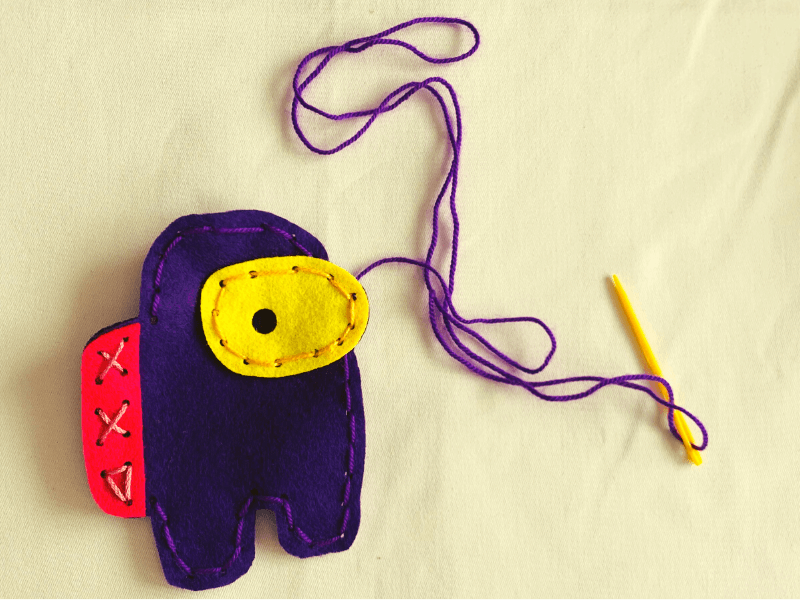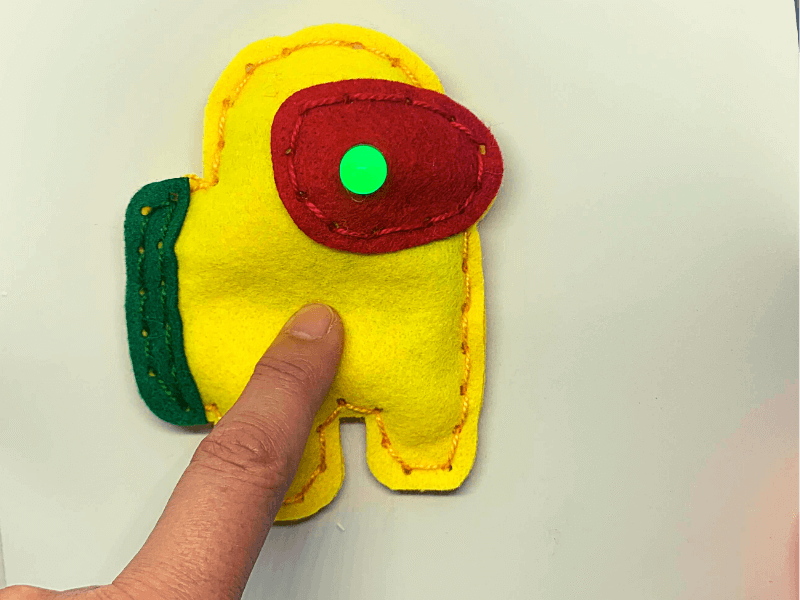 Licence and credits¶

Attribution — ShareAlike CC BY-SA This activity has been designed by Nuria Robles for shemakes.eu. It is based on Fabricademy´s learning content of e-textiles and wearables and tMa Foundation and Fab Lab León´s learning experiences methodology.
Related and supporting activities/modules
It can be combined with the other topics within the Wearable Technology Package of Fabricademy, such as Wearables.
---
Last update:
May 25, 2022