Networking event: Kick off & self mapping activity¶
Path and modules
Innovation, Future Narratives
| Target | Age | Duration | Objective |
| --- | --- | --- | --- |
| alumni & active community members | all ages (25+) | 2 hours | Networking event - kick off mapping |
--------------upload image screen shot video recording link?---
Preparation and materials¶
Invite your close and active community members or alumni that have taken interesting development journeys, the ones that created their own paths or are starting to do so!
We suggest to mix the group you invite: invite alumni of different years or community members that are part of different groups and don't often meet, to create new networks and connections organically.
Organize an evening for all of you to come together, you can also do this with multiple labs at the same time, this creates an even more diverse group.
Ask them to prepare a few slides each, to introduce themselves on the day of the online or in-person event.
Prep a career mapping canvas on miro, you can use the one below or make your own based on your own experience and intuition, please share your new version ;)
Initial Career mapping¶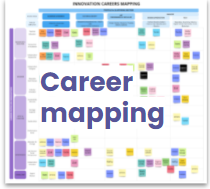 Stemming from the interviews, we developed a map of the common career paths taken by the alumni, within the clothing and textile sector, we identified four macro-areas: academia and research, culture and society, art, and the industry. Hereunder you can find a list of the areas and paths that came up with, feel inspired to explore an area you have not, or add new possibilities to your personal list.
Macro areas Textile & Clothing sector¶
Academia & Research
Culture & Society
Art, Performance & Textile Arts
Industry / Design & Production
Industry / Technologies
Industry / Communications & Coordination
Macro areas of career path¶
Researcher / Educator
Designer
Artist & Content curators
Entrepreneur
Consultant
Manager
Paths¶
Teacher Educator
Researcher in Academia
Independent researcher
Independent designer
Wearable tech pioneer
Industry Innovator
Sustainability advocate
Heritage Explorer
Textile / Performance / Material Artist
Advocate for change
Lab director / social entrepreneur
Independent Innovator
Expert / Mentor
Manager / Coordinator
Mapping¶
The first career mapping in SheMakes can be found below.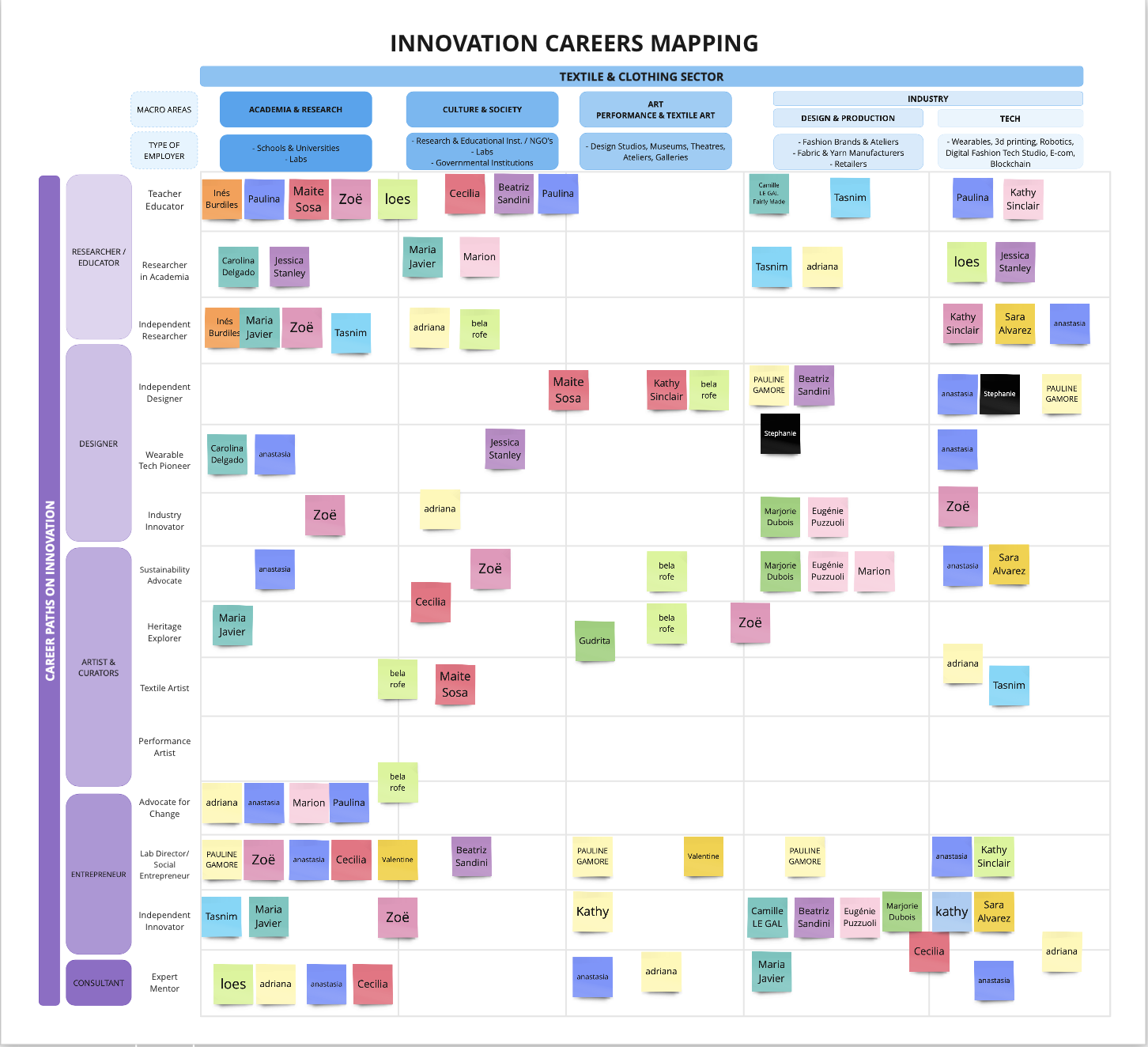 First Career mapping
---
Last update:
January 18, 2022