Discovering and sharing shemakes survey outcomes
| Target | Age | Duration | Objectives |
| --- | --- | --- | --- |
| Labs & Gurus | all ages (25+) | 2 hours | Outcomes survey |
Survey overall description¶
What An online survey to collect additional information on our target group
When Answers collected from 9th June to 15th July
Who participated 29 respondents (24 via Typeform and 5 via direct interview)
Format Online survey via the tool Typeform
Why The survey's main goal was to collect data to give us insights on the different job routes these women had taken and map the opportunities to better support the female innovators in our network
Outputs¶
Age¶
Out of 29 respondents, 28 identified themselves as women and there was only 1 man. In terms of age the majority of respondents were corresponding with our target group of young women innovators, between 25 and 34 years old.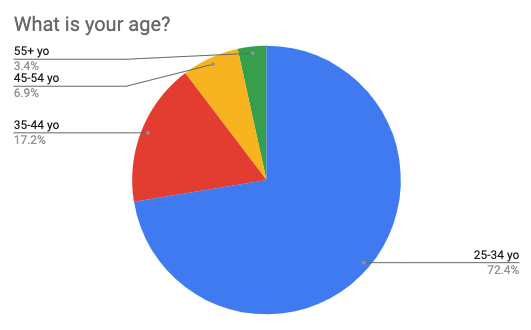 Nationality and country of residence¶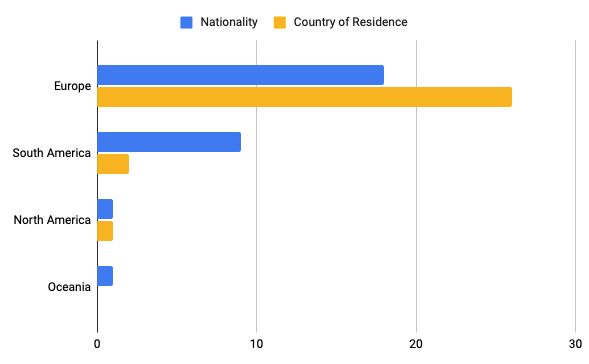 The survey respondents had 13 unique nationalities: Brazilian, Uruguayan, French, Peruvian, Portuguese, Italian, Colombian, Argentinean, Dutch, Irish, Spanish, North American, German and three double nationality citizens, being: Australian-Austrian, British-Uruguayan and Brazilian-Italian.
The representativity in terms of nationality is not reflected in terms of country of residence, where 26 out of 29 respondents are located in the European countries. We could attribute this high correlation to the fact that all shemakes' core labs are located on the continent and because of this the timezone of the call to participation happened in optimal time for european participants.
Level of education¶
Work status¶
More than half of our respondents are currently self-employed or working as a Freelancer professional, followed by 20% of Part-time workers.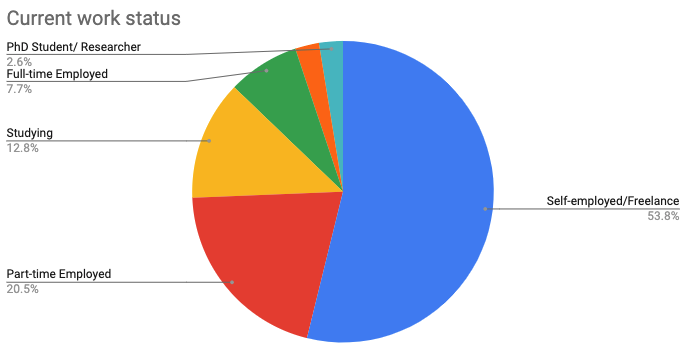 Skills and opportunities¶
From the question "Which topics would you like to have seen more of during Fabricademy? What were there gaps you had to overcome to reach the career position you are at now or aim to be? (Think of content, technical & soft skills, overall knowledge)" we expected to extract the main opportunities to improve Fabricademy as a course and the lab as an enabling environment for women. Since this was an open-end question we coded/framed the results in hard or soft skills (first chart), and try to fit them into similar subjects (second chart).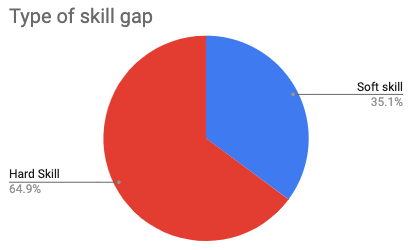 The chart below represents the main areas mentioned, the color code indicatinges whether that skill is perceived as soft (blue) or hard (red) skill. When analysed the areas of skills mentioned by respondents, answers that made reference to the job market, career opportunities and mapping professional possibilities, ranked first.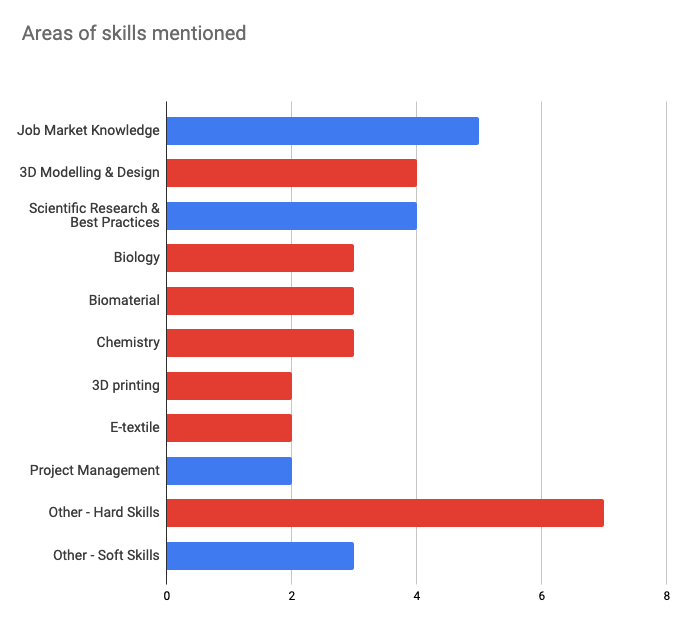 On the hard skills, draws attention to the amount of references to 3d modelling and design applied to fashion, digital simulation, virtual reality, with mentions to softwares such as CLO3D, Cinema 4D, Blender.
Another group of hard skills that came out relevant was the combo of Bio & Chemistry related topics, often wishing to have more depth in technical knowledge in these fields to further develop research on biomaterials, biocomposites and dyes.
Lab as an enabling environment¶
When asked if the lab is an "environment that enables you to expand your connexions and knowledge" the vast majority agrees with the statement.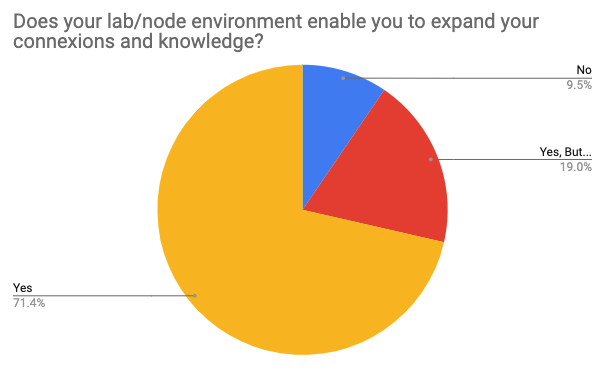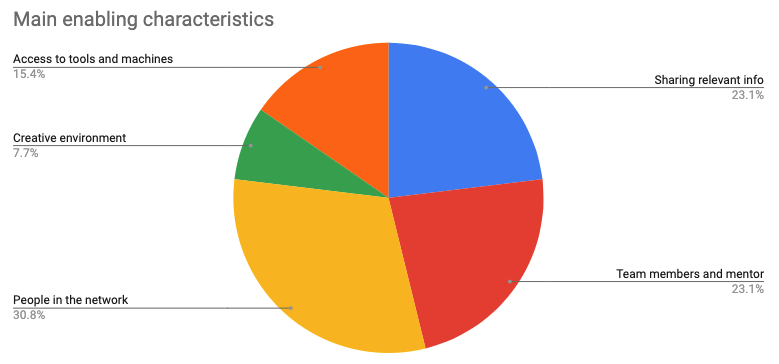 Some respondents quotes can be highlighted:
"Yes definitely! Fab Lab Barcelona is a good environment to meet people and expand your network. It is located in IAAC school (so other students and conferences) and the lab is generally involved in different activities and events throughout the year"
"Yes, that is one of the things I loved about studying in Textile Lab Amsterdam. The network with the local community is well established and I know they will help out if I need to contact this or that person in the industry. Also, they're very open to exploring new topics, and flexible to offer guidance and support"
"Yes, but we are in a very complex moment, where many activities have had to be suspended due to the pandemic, and where all the funds of the University are being used to solve problems related to Covid and virtual education, so it is very difficult at this moment to expand with certain projects"
Fabricademy involvement¶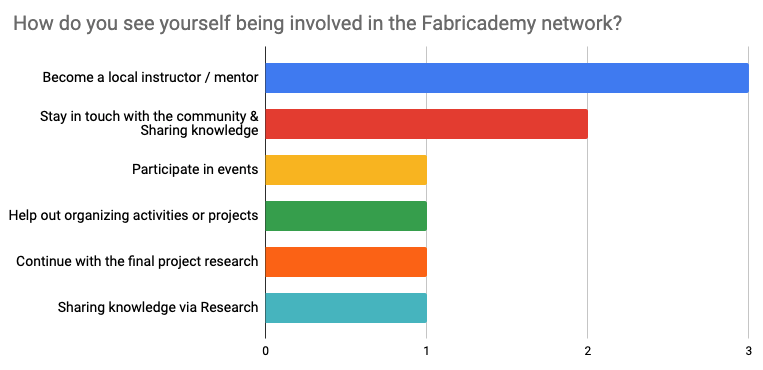 Career Change¶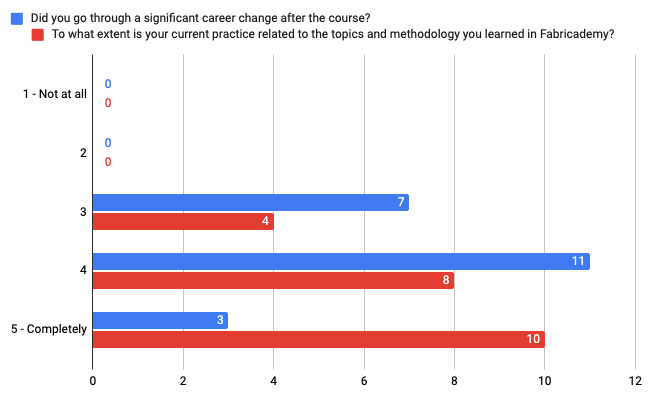 Questions still missing to be added
JOB TITLE / SECTOR
What is your current job title / professional activities? In which sector?
What job did you hold before/during Fabricademy? In which sector?
Thinking about your work environment today, do you feel diversity and inclusivity are important topics? Do you feel supported/encouraged to be who you are?
Tell us what you think about gender issues and what kind of actions you would like to support to limit inequalities and empower women.
---
Last update:
January 6, 2022