Demonstrations¶
Demonstrations are short activities to showcase one or several practice of making. This format is great for open events, as starter activities and when it is not allowed for people to touch/use materials ( as it was the case during the pandemic) Demonstrations can occurs in one station, showing only one practice or can run in many stations to showcase a large diversity of practices. It is possible then to optimise the experience according to the timing we have available for the demonstration. For instance, you can make groups rotate from one station to one other with various facilitators and a good time keeper. Demonstration are often combined with exhibition's stand. It is well seen to showcase materials and samples generated during the program to support dissemination, have a tactile experience, and attract people to join the maker communities.
Demonstration with rotative stations - Biomaterials Design¶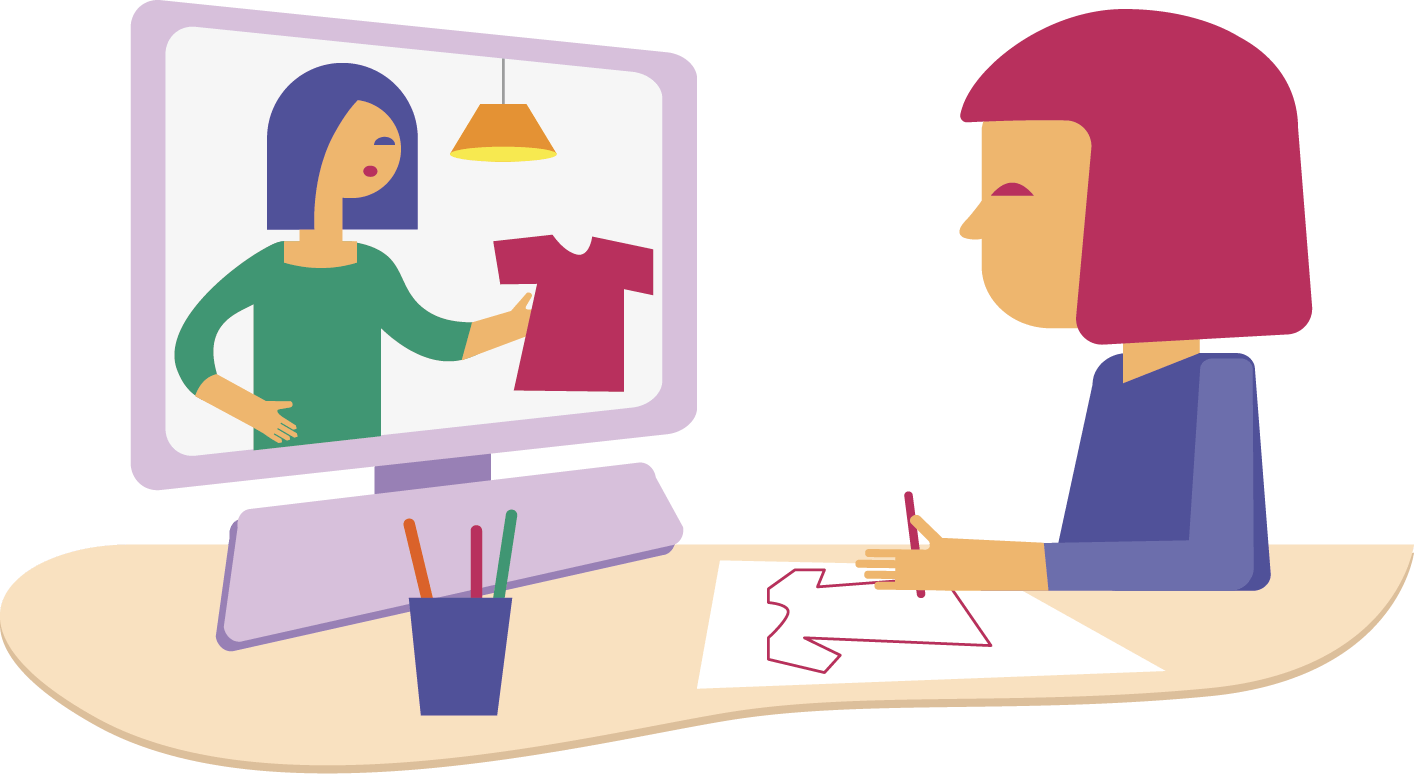 Description One of the most emerging developments that is currently growing rapidly in the field of industrial design, fashion and art is the creation of biobased materials, biofabricated in laboratories from microorganisms, bacteria and biopolymers. The industry is already incubating solutions to create new products that propose alternatives to materials derived from petroleum or animals, with examples from small and large companies such as Deserto, Piñatex, Bolt Threads, Gelatex, Mycotex.
This learning path is about Biomaterials Design. It raises awareness around emerging biobased solutions and material innovation.
The workshop is designed for a large number of participants and for this reason the group is split into subgroups that attend different activities that are happening simultaneously. The activities can be demonstrations, hands on learning, guided visits or presentations and the activity is following the methodology of « rotating stations ». It is preferable that the space is separated or that the parallel activities occur in different rooms in order to avoid noise.
How does this work?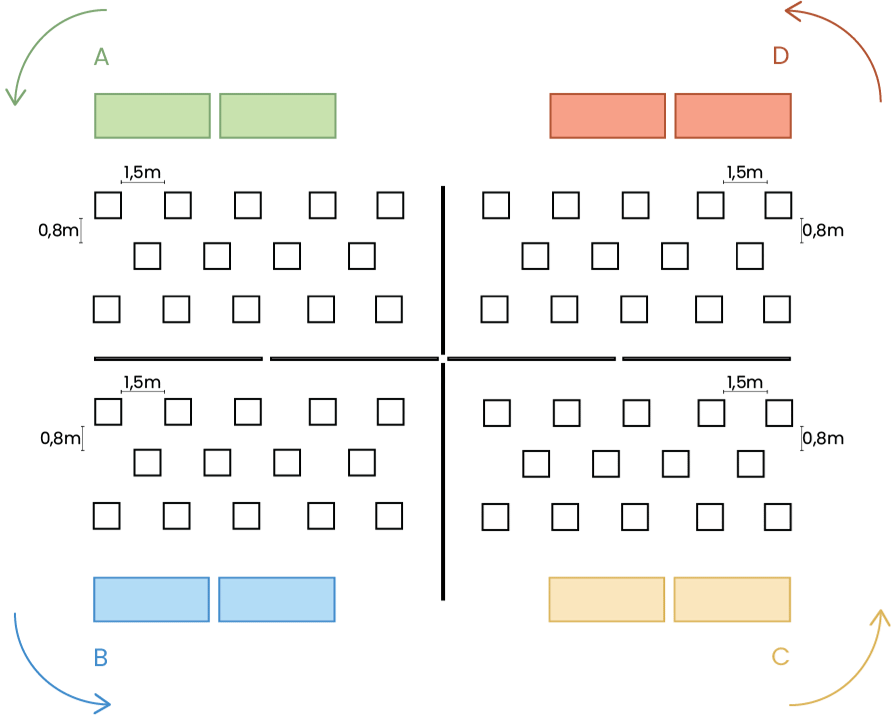 The suggested duration for each of the rotating stations is 30' including a small introduction and a wrap up reflection or feedback. The ideal number for a subgroup is 8 to 12 people.
The activity can scale up and extend in time for accommodating more participants by adding more stations.
Objectives
The activity aims at introducing participants to different processes of bio fabricating materials using recipes that combine dried food waste and different possible polymers and plasticizers. The purpose of the learning activity is to generate an added value to organic food waste and introduce them to biodesign practices.
Learning Outcomes
- Understand the workflow of crafting biomaterials
- Valorize organic waste
- Raise awareness about the problem of petroleum based plastics
- Get an overview of the processes, ingredients, tools involved in crafting biomaterials
- Understand three types of fabrication methods: casting, molding and extruding
- Learn bio-recipes for different applications
- Get introduced to the existing initiatives, companies and understand the market opportunities of biobased solutions
- Network and connect with other participants with similar interests
Target audience and context of use
Creatives and professionals, such as producers, designers, architects, biologists, bioengineers, SMEs, and companies with interest in sustainability and alternative innovative biobased materials.
You can run the activity in different places like a museum, a gallery, a conference, an event.. Set up a collaboration between your lab, material centres and a cultural center or museum.
Number of attendees (36 to 40)
Number of facilitators(8 to 10)
Preparation and materials Dive into the references provided in this page, select your recipes and create your team of facilitators. Rehearse the demonstrations and organize brief meetings with the facilitators to orchestrate the activity and its preparation needs.
Check you have all the tools and materials needed and that you will have time to wrap up your tools, set up the logistics for the event room. Prepare some recipes advance: - Liquid mix of sodium alginate - Molds - Paste for extrusion - Files for 3D printing (script, possible geometries, etc) - Examples of finished dried materials
Equipment, Tools and Ingredients
4 big or 8 small tables, chairs
Mobile with chronometer and music player
Video recording and photo set up
Communication audio channel between facilitators (telegram) for rotation coordination
Each station is independent and can run a specific biomaterial recipe or process. Select three of them that could be demonstrated in less than 30mn among the following ones from Remix El Barrio's collective or Fab Lab Barcelona's team:
Click on the picture to discover our list of Biomaterial tutorials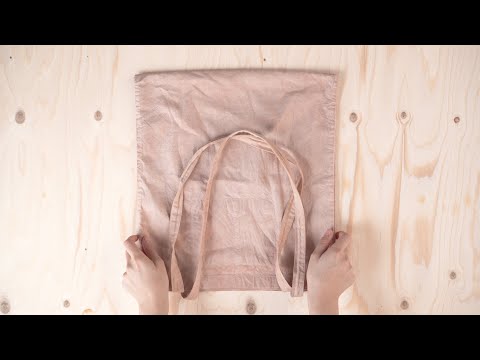 Then, for each station, take a look at the tools and materials needed in the dedicated tutorial. For example, we used the three following stations: Station 1 (CASTING), Station 2 (MOLDING), Station 3 (EXTRUDING).
It is easy to customize the demonstrations according to your expertise and favorite recipes.
Step by Step process instructions
| Time | Title | Activity | Interaction Mode - Notes |
| --- | --- | --- | --- |
| 16: 00-16: 10 | Meet-up | Organize the groups at their tables and pass them the consent form (pens, post its, boards to stick post its) | All physical |
| 16: 10-16: 15 | Brief | Enter the event: Describe how the event will be in its entirety, that this activity will be divided into 4 stations, one of them doing the guided tour and the others understanding different techniques and manufacturing processes of biomaterials. Explain that they will have 3 post-its colors: What products or services do you imagine made of biomaterials? What could we substitute with organic material? What are the barriers and disadvantages of biomaterials? | All physical |
| 16: 15-16: 20 | Context description | Explain why this event is held, which is the Fab Lab Barcelona, ​​which is shemakes that sponsors the remix event | All physical |
| 16: 20-16: 30 | Presentation | Introduction to biomaterials and materials with organic waste. How to process them | All physical |
| 16: 30-16: 50 | 1st round | First round of demonstrations - 1st group goes to expo | All physical |
| 16: 50-17: 00 | Transition 1 | changing tables, music, post its | All physical |
| 17: 00-17: 20 | 2nd round | Second round of demonstrations - 2nd group goes to expo | All physical |
| 17: 20-17:30 | Transition 2 | changing tables, music, post its | All physical |
| 17: 00-17: 20 | 3rd round | Third round of demonstrations 3rd group goes to expo | All physical |
| 17: 20-17:30 | Transition 3 | changing tables, music, post its | All physical |
| 17: 30-17: 50 | 4th round | Third round of demonstrations - 4rd group goes to expo | All physical |
| 17:50-18:30 | Closing | Open Q&A, reflection | All physical |
Estimated cost
You might plan some costs for getting the materials and tools but also some fees linked to your collaboration with the place you run the workshop. In our case, we set up a contract with a design museum for using the space for free and we had to pay security and cleaning.
Recommended evaluation
Here the criteria's followed for evaluating facilitators and participants: - Profiles
- Activity Feedback
- Learning dimensions
- Empowerment and Future careers
- Voices for gender and tech
| Who? | How? |
| --- | --- |
| Facilitators | Post- activity Form ES, EN |
| Participants | Post- activity Form ES, EN |
| Host x Partners x lab coordinators | Informal discussions |
Check the assessment rubric @....
Tips to facilitate the activity in context (to-do / not do) - Due to Covid regulations, participants were not allowed to rotate and change stations. As a solution, the stations used were tables on wheels and instead of having the participants rotating, only the stations and the instructors rotated. - Due to Covid regulations, participants were not allowed to come to stations and watch the demonstrations from a close distance. As a solution, a TV with a tripod and a camera was installed over the stations and participants could see what was happening from the top through the screen - For the better understanding of the materials, it is recommended to have samples to demonstrate the outcome of the recipes - We recommend creating a registration weblink, such as eventbrite and communication graphics for publishing the event via your channels. Ideally the event should be published at least one month earlier.
References
Links to photos and recorded materials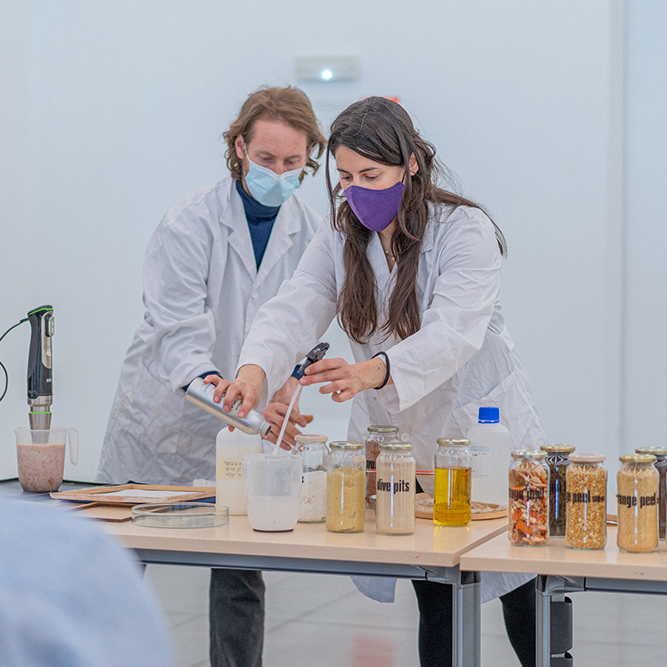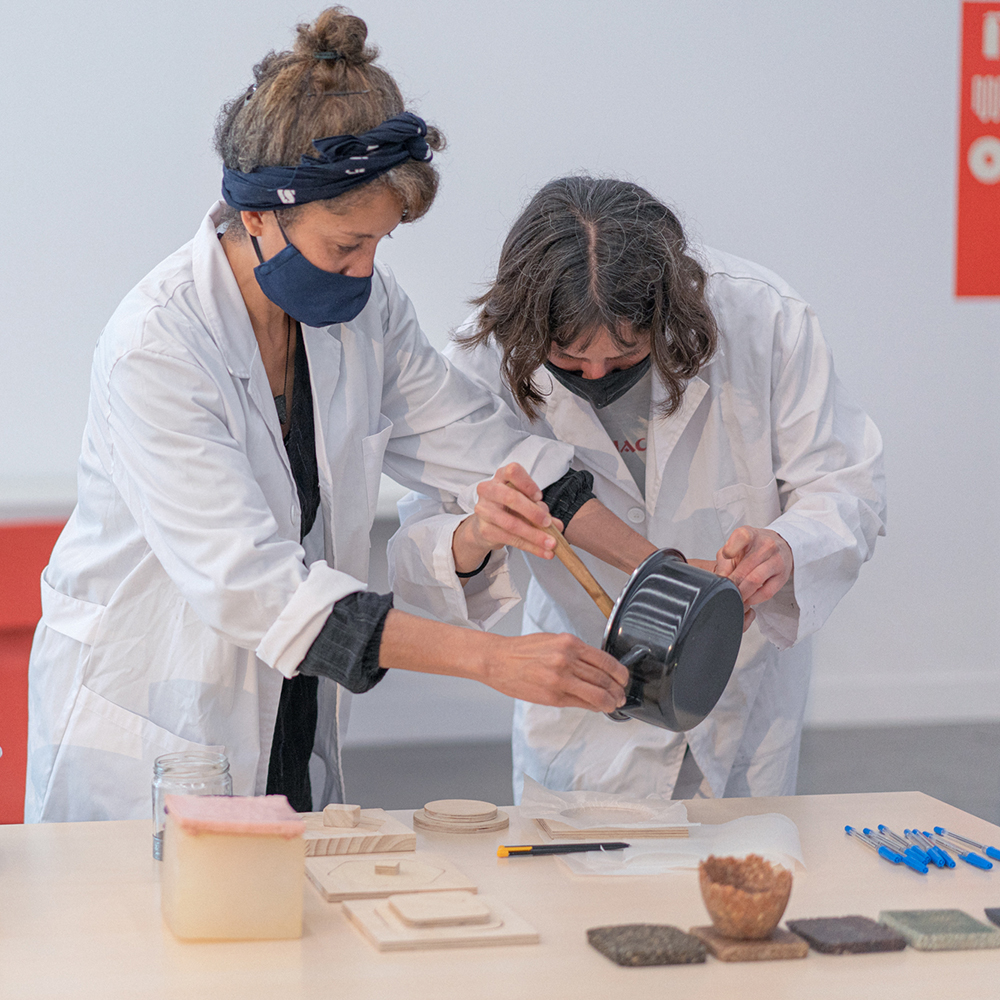 More information about the Remix El Barrio exhibition and tutorials that participants can visit and look at:
Tutorials
Foodture
Remix Gitbook
Readings A selection of readings around sustainable biomaterials and material design by Anastasia Pistofidou
1. The secrets of Bioplastics
2. Bioplastic Cook Book
3. Bioplastic Hand Book
4. bioplastic
5. Recipes for a material activism
6. Material Exploration
7. Material Alchemy
8. Rapport
9. Rapport
10. Restology
11. biofabricacion
12. Workbook
13. fbre-fabrics-digital
14. bioplastic
15. biomateria
16. design_foodforthought
17. Aalto Chemarts
18. The new plastics economy
19. How to make everything
20. Think Bioplastic
21. Chemarts CookBook
22. Biomatters
23. Design food for thought
24. Materiom
25. SYMLAB recipe book
26. beyondplastic
27. Materials Experiments Catalogue
28. naturelab
Licence and credits

Attribution — ShareAlike CC BY-SA This activity has been designed by Anastasia Pistofidou, Marion Real, the Remix el barrio collective, Fab Lab Barcelona and Ines Burdiles for shemakes.eu. It is based on Fabricademy´s learning content of Biofabricating Materials, FabTextiles´ open publications and Iaac Fab Lab Barcelona´s learning experiences methodology.
Related and supporting activities/modules It can be combined with the other topics within the Sustainability Package of Fabricademy, such as Natural Textile Dyeing, Biochromes and Textile Scaffold.
Roglab demonstration workshops¶
---
Last update:
October 21, 2022