Business Engagement¶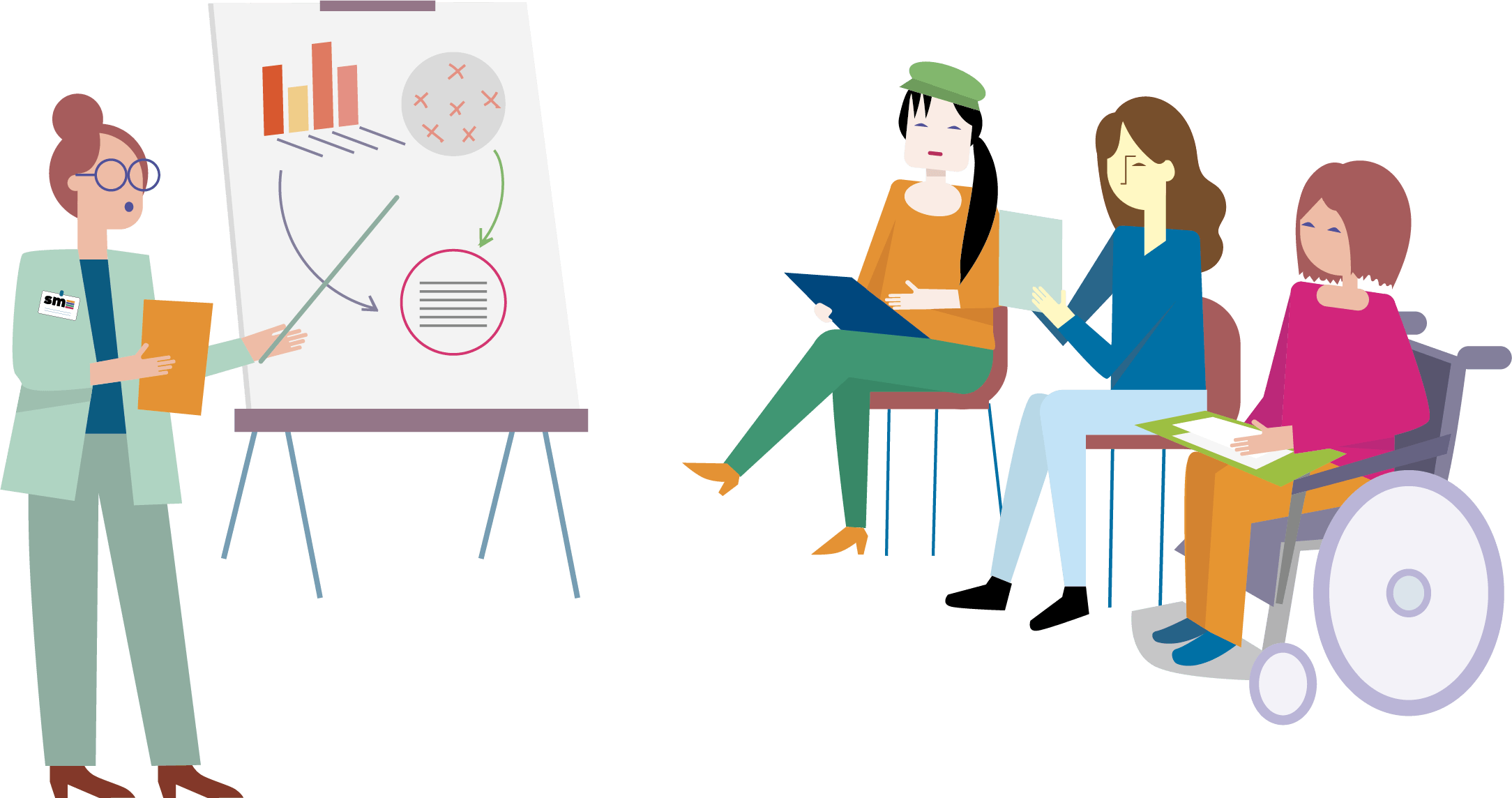 Engaging in SheMakes¶
Being here, you may already know that Shemakes.eu is an EU-funded project that focuses on innovation as key to bridging the gender gap in the textile and clothing industry. The goal being to empower future female innovators of the sustainable fashion industry through inspiration, skills and networks.
As a lab that accompanies young innovators in the textile and clothing industry, you get the opportunity to support them in their routes to job by fostering collaborations that'd help them become better equipped for participation in innovation ecosystems - and help them thrive through entrepreneurship or through making a business line out of an innovation. One of the ways we identified to succeed in this challenge is what we call business engagement.
But what does engaging with businesses mean for you and for your innovators?
For some of your innovators, this means that they are embarking on an entrepreneurial adventure by putting an economic model around their innovation. For others, it will be about partnering opportunities that allow them to introduce their innovation into an existing organization or company. We therefore believe that for you as a lab, being able to make business engagement is to have the network, tools and methods necessary to help your innovators to have: - opportunities to build a startup, - opportunities to create new business lines with their innovations.
To give you a better idea of the actors involved in the creation of these models are the following: makesense, Ziphouse, Le Textile Lab, Textile Prototyping Lab, and Lottozero. Together, other a period of 6 months, the labs working on business engagement managed to : - help 26 women innovators to move forward in their entrepreneurial journey by removing operational tensions and enabling them to take a leap forward with their project; - support 24 innovators in promoting their project and creating links between them and their ecosystems, thus facilitating contact with specific contacts and opening up opportunities for new business lines.
All of this is in addition to more than a 100 young women who were inspired by the speaking out and highlighting of innovative women entrepreneurs who have had many more opportunities as usual to tell their stories during the past months.
Do you want to get started too? Here is the model that we came up with: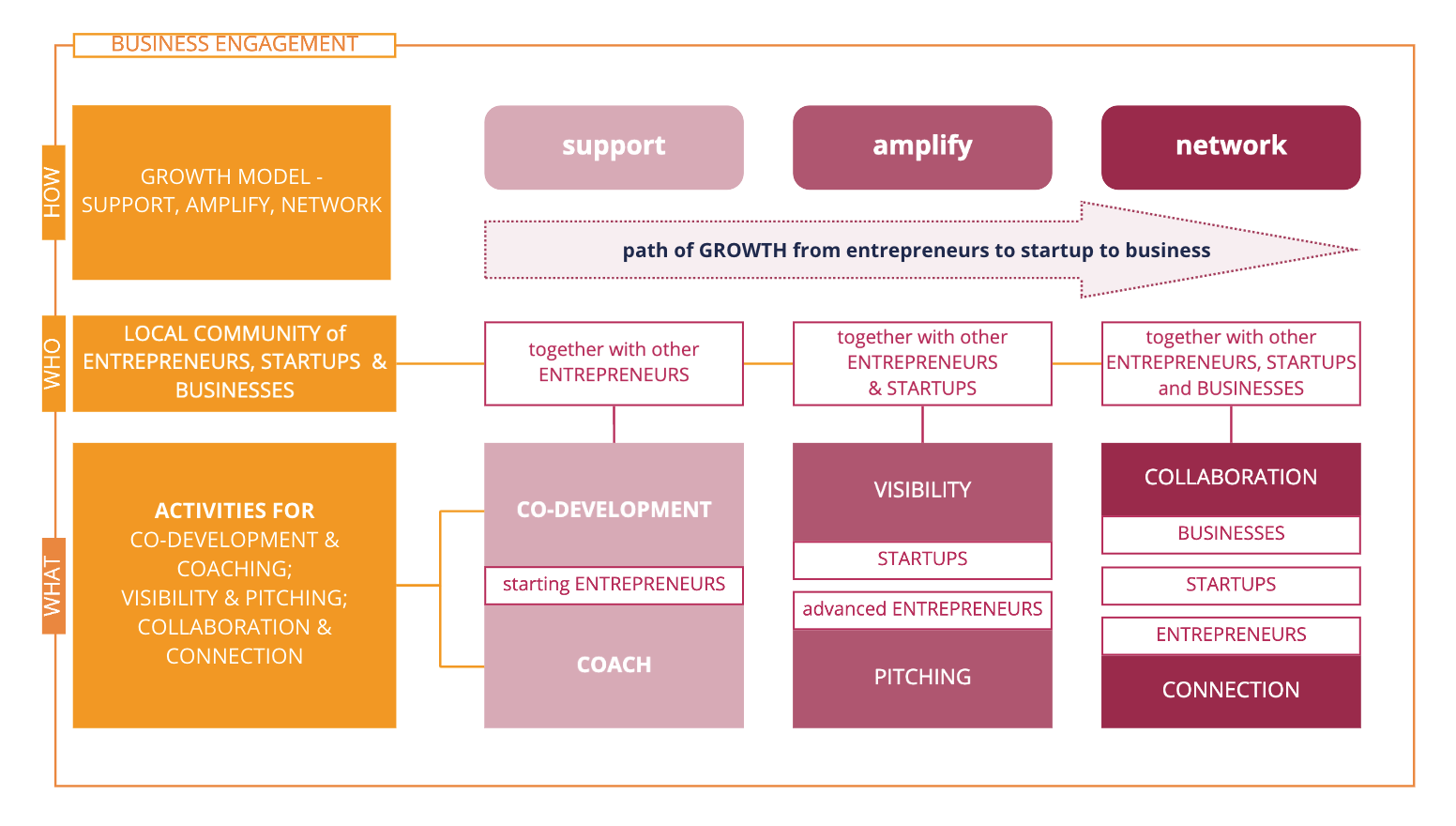 Below you can find a guide to building your business engagement skills and helping your innovators thrive.
Co-development & Coaching
When you decide to start a business as an innovator with an alternative path, the challenges and needs are numerous: coaching, financing, support community, resources...
As Shemakes.eu labs, our role is to provide as much as possible for these needs by our own means or by giving access to a network of helpers.
Visibility & Pitching
Amplifying your innovators' and entrepreneurs' voices is really important as a lab because it is on one hand directly conrtibuting to the development of their project, but, on another hand it is also helping inspire many more younger women towards this kind of path.
Find here the example of a panel that was led by a lab, and discover more about how to create safer spaces by taking a look at an example.
Click here:
The Pitch my target goal is helping women entrepreneurs to find the right contacts and broaden their networks through the strength of community and collective intelligence.
In concrete terms, each entrepreneur has to prepare a pitch in which she asks her demand in contacts. Then, mentors and other entrepreneurs can share their contacts if it is relevant.
Explore it further in this page:
Collaboration & Connection
To turn their innovation into a social enterprise or a new business line, innovators often lack a network, coming from a background that is either not business enough or not fashion enough. There is always a gap and so as a lab, you can put your energy behind creating that network for your innovators.
The goal of the activity is to create an integrating environment for women entrepreneurs in textiles and clothing. By getting together representatives from the fashion industry we wanted to offer the opportunity for them to speak about their career path, about the challenges and future plans.
One of the most important parts of this activity is the Career Mapping exercise for which the key factor is identifying innovators and supporting their new perspectives.
Explore it further in the next section of this Open Toolkit:
Female Entrepreneur Mixer is an aperitif dedicated to female entrepreneurship, but open to all, where experienced female entrepreneurs from the district and young start-ups from the world of sustainable fashion meet with the aim of helping each other and creating new connections.
The aim is to create a very informal setting where people can relax and get to know each other without the many social constructs which often limit females careers.
Explore it further in this page:
---
Last update:
December 2, 2022