SheMakes panel: Women in Fashion¶
Goals of the event¶
For the SheMakes project we wanted to understand how leading women in the textile and clothing industry experience(d) the gender gap in or throughout their career. At the same time we wanted to put them on a stage to inspire other women (and men) and feed the public debate. (Personal) experiences and various perspectives were shared ana fed into the discussion about working towards stronger support networks and enabling women to step into leading roles. The event was streamed and viewers could share their questions or thoughts through a chat. The recording was shared online afterwards by the organisations involved which created a ripple effect and a continuation of the discussion on social media platforms like LinkedIn.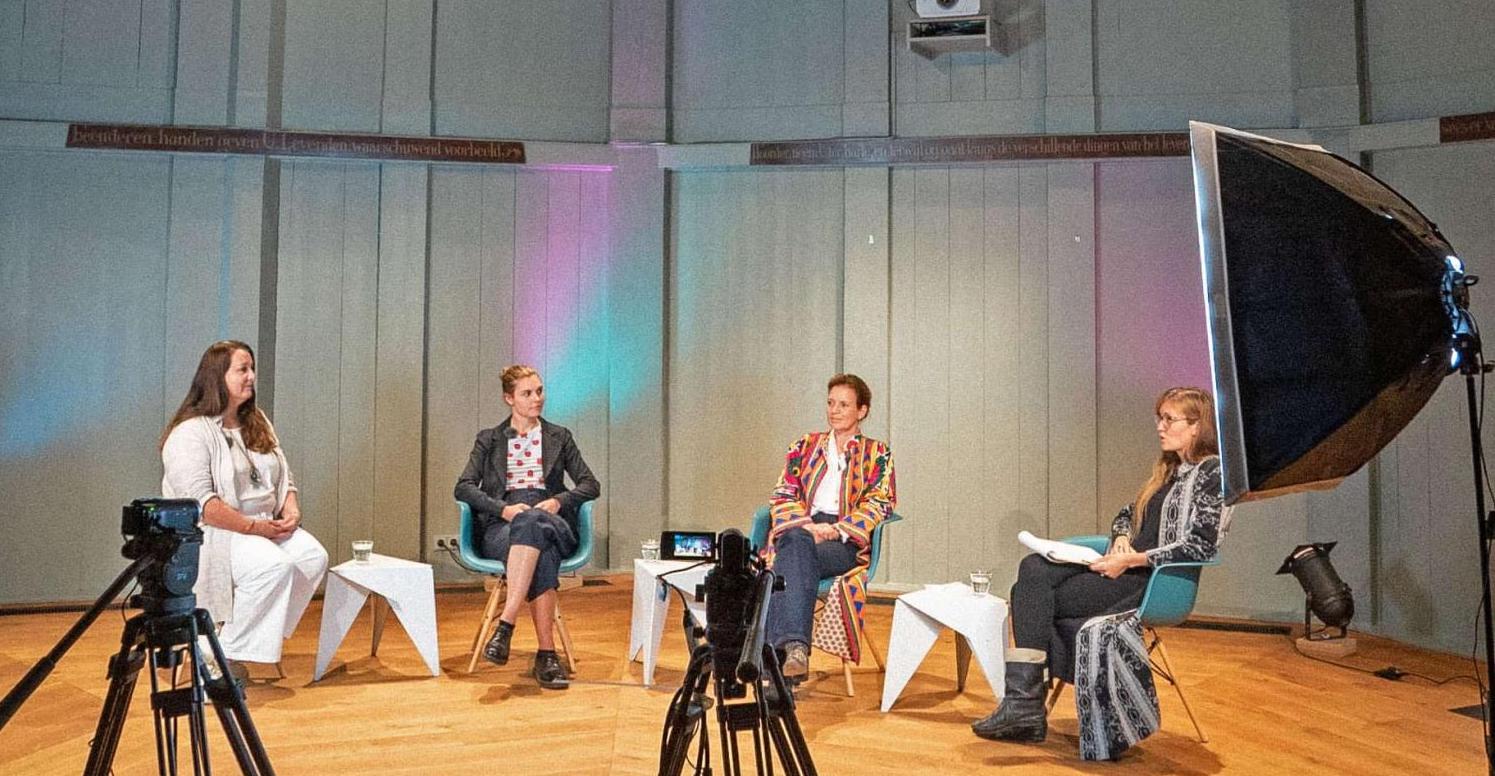 MATERIAL AND TOOLS¶
space for the event with the right acoustics and room for all the equipment.
photo camera for documentation to share after the event.
set-up for a live stream, including two cameras with a wide and a focused frame, screens, four microphones for all participants, a sound operator for multiple channels, etc. A team of three people backstage was needed.
ROLES & PREPS¶
Technician: in charge of the set-up of the livestream and the recording to use afterwards. Set up had to be build and tested prior to event.
Production / photographer: working on logistics, planning and organisation of the actual event before, during and after.
Moderator: selecting, inviting and preparing panelists, preparing the discussion in terms of content (rooted in the earlier work done by the SheMakes project partners) captured in a few sub topics and questions, moderation during the event and following up with panelists when recorded content could be shared (feeding the ripple effect / continuing discussion) *Note: prior to the panel, a video was pre recorded during an interview by the moderator, with a leading women. This video was used during the discussion.
Panelists: preparing and taking part in discussion (Chosen by their leading position and affinity with the topic. Ideally the panelists are diverse in terms of age, cultural background and job.)
Communication: announce event, keep track of viewers and interaction if desired.
AGENDA 2H SESSION¶
1 - Welcome 15 min¶
Why This evening is part of the SheMakes project. SheMakes - An European project focusing on enabling females to become the leaders and innovators of the future in the textile and clothing industry. The upcoming hour we will discuss how we can support these girls and women. For the online audience - there will be time to ask questions at the end.
Introduction panelists.
Why Within the fashion and textile industry, the majority of the workforce is represented by women (in Europe more than 70 percent). But in this industry where women are overrepresented, there is still a gender equality gap.
Only about 14 percent of major brands have a female managing directors in charge.
There is still a payment gap when it comes to the similar work executed by men.
The work done by women is often valued less, also in terms of payment and prestige.
Less women can be found in engineering studies -which is so needed in this changing industry, although they are heavily involved in -science technology engineering mathematics- topics at a younger age and also very good at it. Stereotypes and the idea that women are not suitable for those studies play a significant role in that.
Less female entrepreneurs.
Etc. How can we address the gender gap, what can we do and how can we create enabling networks that support more and more women stepping into leading roles?
This is a combination of prepared topics and questions and the input given by the panelists in the moment itself.
Did you experience this gender gap in your own career and how, or what do you see around you? examples
What are the actual problems in these examples? What stops women from being in leading positions?
What needs to happen to solve or address these problems?
How do you solve or address these problems in your own practice?
How can women support each other? / What do you experience as enabling?
You all said yes immediately to this invitation, why is it so important? And how should we continue talking about this?
Why mainly women in Social Corporate Responsibility SCR?
Why are intrinsic motivation and authenticity important related to female leadership?
What do you see changing when in comes to female role models?
Check incoming questions in between.
Thank panelists, viewers online and invite people to continue the discussion and follow the SheMakes project.
---
Last update:
August 3, 2022