Icelandic Context¶
Local wool characteristics and typology¶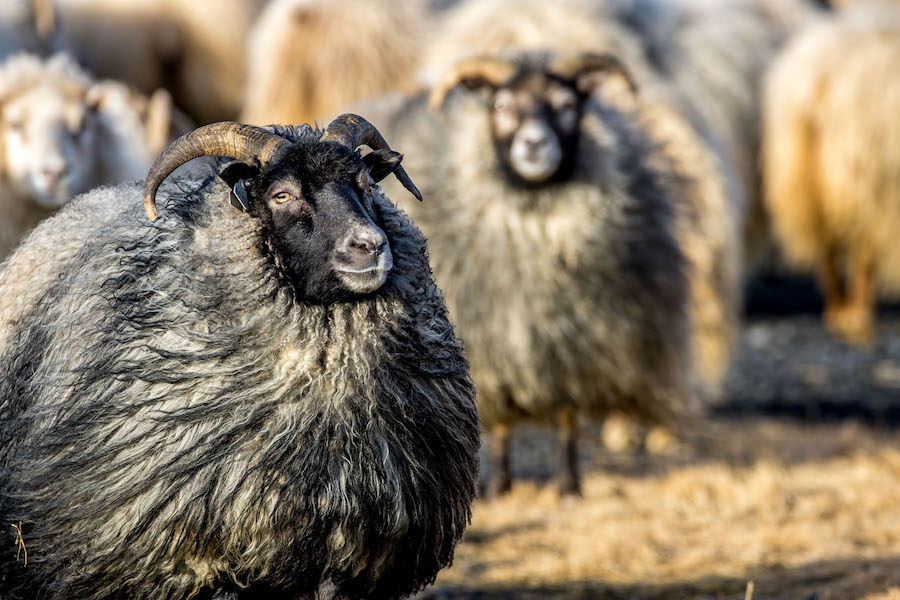 Photo credit: Jóhanna Erla Pálmadóttir
Wool and wool production has been a part of Icelandic history since the time of the first settlers. Wool kept the nation warm and dry and houses isolated. It was used as currency, both the raw material as well as woven and knitted products. For centuries, wool products were one of Iceland's main exports. Today, wool is considered a byproduct of the meat industry. Since 1980, the number of sheep has decreased significantly, which can be largely attributed to the low price of sheep products and difficult farming conditions. According to the 2020 yearly autumn reports of Statistics Iceland, there are now 401.022 sheep in Iceland, and in 2018 there were 1437 (2018) where sheep farming is the main source of income . This number continues to drop.
The characteristics of the wool¶
Iceland wool has outstanding breathability and thermal insulation. Over 1,100 years in the northern climate and isolation has given the Icelandic wool a distinctive characteristic. The wool is dual-coated with a combination of inner and outer fibers. The soft inner fibers, þel, keeps the sheep warm and is highly isolating. It is used for soft fine wool yarns in undergarments and baby clothes. The outer fibers, tog, are strong, long and working as an outer coat providing weather resistance for the sheep. Tog is used traditionally as a sewing thread, in rugs and embroidery yarns. When spun together, they create a high-quality wool that is lightweight, water-repellent and highly breathable.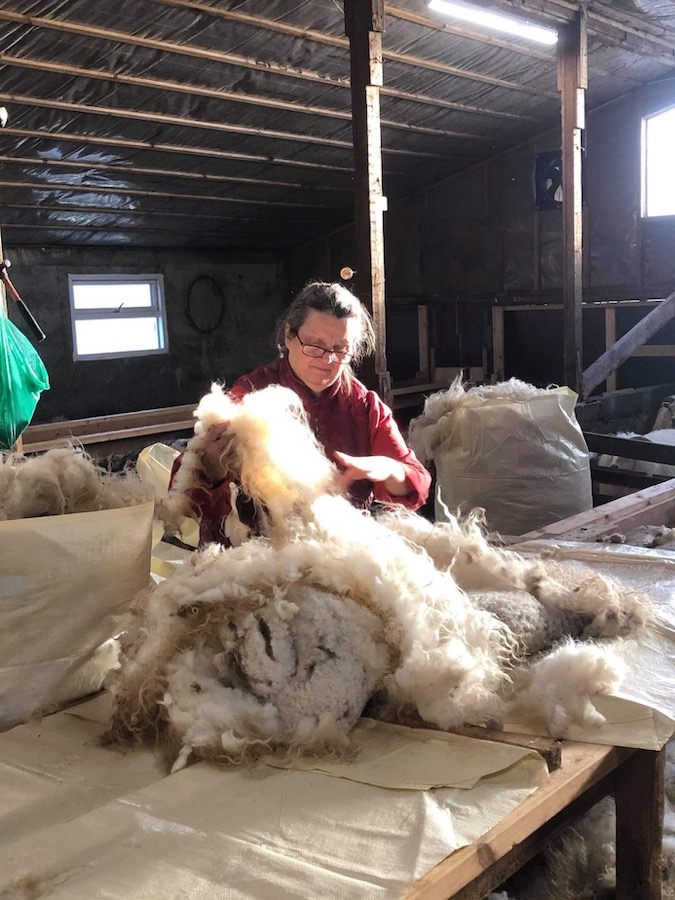 Photo credit: Jóhanna Erla Pálmadóttir
Icelandic sheep come in many different colors. There are, however, only three categories of fleece color: "Color", "Pattern" and "Spotted". The first category, color, has two basic colors; black and moorit, including a range of hues. The second category, "Pattern" is sectioned into 6 types: White, Gray, Badgerface, Mouflon, Solid, Grey Mouflon. The third category, "Spotted" is sectioned into 32 different types, which will not be listed here!
Most Icelandic sheep are shorn twice a year, i.e. in the autumn and spring. Given that sheep spend the summer roaming free in the highlands, the autumn wool has the best quality. It is clean and fluffy, with good fiber length. Spring wool contains more lanolin, but is considered less valuable due to (natural) fleece contamination. It is well suited for stuffing or in non-woven applications.
Traditional handicrafts made from wool¶
Wool production has played a major role in Iceland since the time of settlement. It's fair to say that until the 19th century, the whole nation wore handmade woolen clothes. Most commonly, the wool was hand-spun into yarn to be knitted or crocheted. Traditional handcrafts include hats, mittens, socks, blankets, shawls, and undergarments. The now famous Icelandic sweater "lopa peysa", made from unspun wool, was actually not around until the 20th century.
Garments were typically knitted three sizes too large and then felted down to size to make the clothing windproof - Icelandic fleece has long been famous for its excellent felting properties. The outer fibers, þel, were used for sails, rope, sewing thread, belts, rugs, wall hangings, saddle clothes, lace shawls and shoes. Weaving played a major role, and woven goods were used as currency or locally in the form of clothes, blankets, rugs, and wall blankets.
Key actors and active locations in the field¶
Sheep farmers¶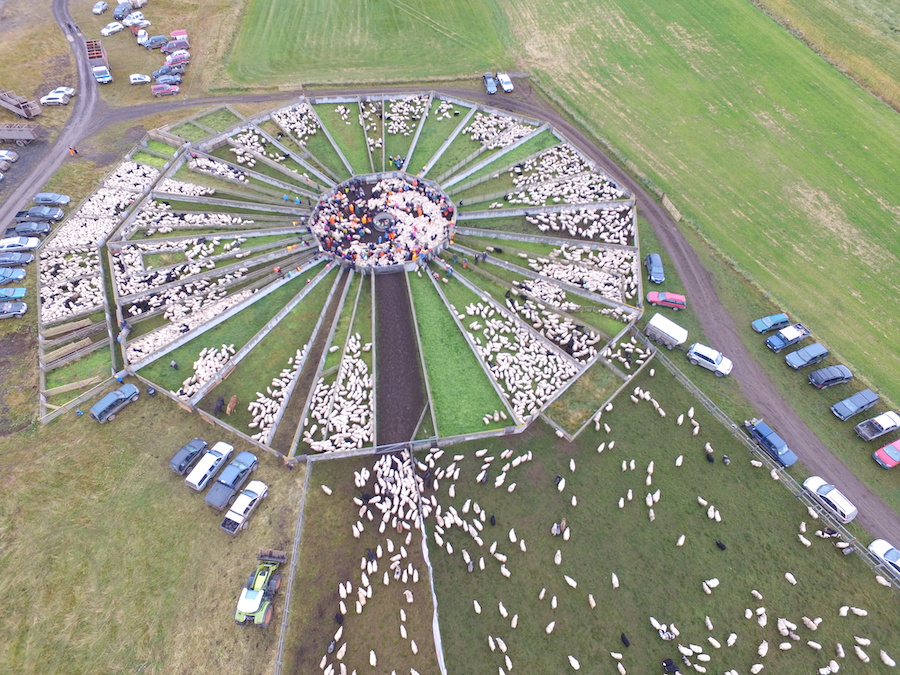 Photo credit: Jóhanna Erla Pálmadóttir
Ístex wool washery and spinning factory¶
After the farmers shred their stock mostly it is sent to wool production company Ístex, processing around 99% of Icelandic wool, where it is both washed and produced into a product. They categorize the wool into classes and around half of it is used and is mostly spun into woolen yarn, after being combed and sometimes dyed. Other more special wool products Ístex has developed include blankets and duvets.
Mini mills¶
In the mini mills the process is more intimate and personal, as it becomes possible for the farmers to have their stock wool washed, dyed and spun per request. It is likewise possible to request a specific color and other qualities. Uppspuni Gilhagi
dye studios¶
There are dye studios all of Iceland. Natural dyeing is deep withing the culture and the national costume is also only made out of natural dyed material. Most of Icelandic plants give yellow colors, but brown, pink and other colours can also be found in the local context. Here are a few of many other studios working with natural dyes in Iceland. Grasnytjar Þingborg vatnsnesyarn
Knitting factories¶
varma is one of two knitting factories in Iceland who knit out of the Icelandic wool and are open to collaboration with designers and innovators. Kidka is the other knitting factory based in hvammstangi, northwest Iceland
The Icelandic Textile Center's TextileLab¶
The Iceland textile Center opened the TextileLab in May 2021 and is the first of it's kind in Iceland. The TextileLab offers access to state-of-the-art textile equipment and digital technology for makers, students and artists. The project is part of the Textile Center's ongoing European collaboration CENTRINNO, funded by the research and innovation program Horizon2020. The TextileLab is open to anyone interested in working with textiles and wool. No formal training or experience needed. It's a space for experimentation and learning - sample work rather than full-blown production - with an emphasis on sustainable and local resources.
Innovative projects working with wool¶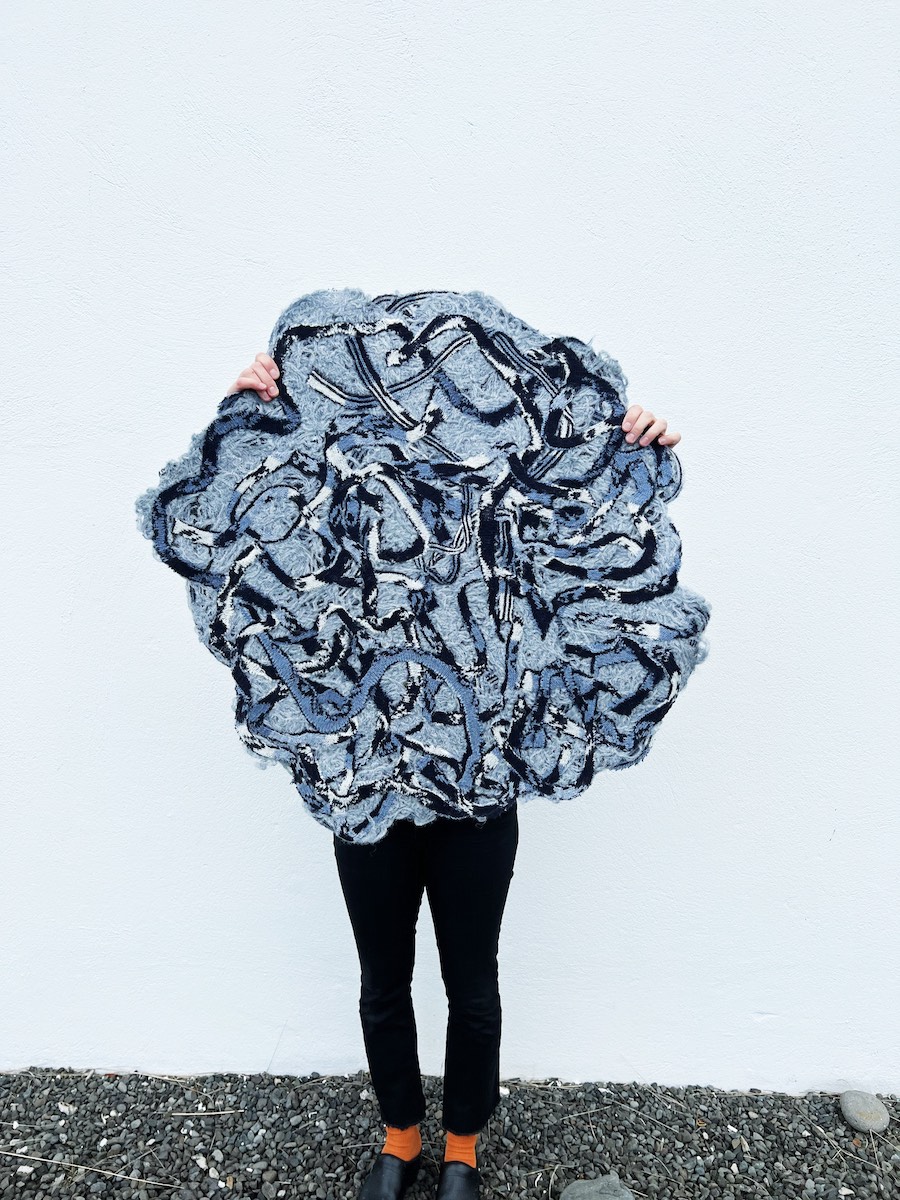 Photo credit: Studio Flétta & Ýr Jóhannsdóóttir
Þæfingur by design Studio Flétta and Ýrúraí. The project is about making use of wool scraps and unused material from kniting factories in Iceland. At the Icelandic Textile Center's TextileLab they used the feltloom and other tools to make new use from the knitted scraps and therefor prevent wool leftovers to pile up on the Iceland in landfill.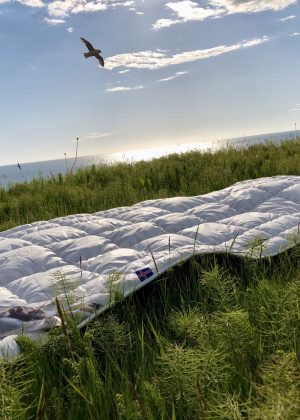 Photo credit: Ístex website
Ístex has started producing products using the second class wool that is not used and thought not to be not usable for yarn making. The products are a duvet, pillow and mattress in different sizes. "Sleeping surrounded by wool will improve your sleep, and there are scientific reasons for that. The wool regulates your body temperature. The wool fibres in our duvets are nonwoven, which means there is volume between the fibres. This allows for air to be trapped between them (air is a great insulator). This structure maximises the efficiency of the wool as thermal insulator."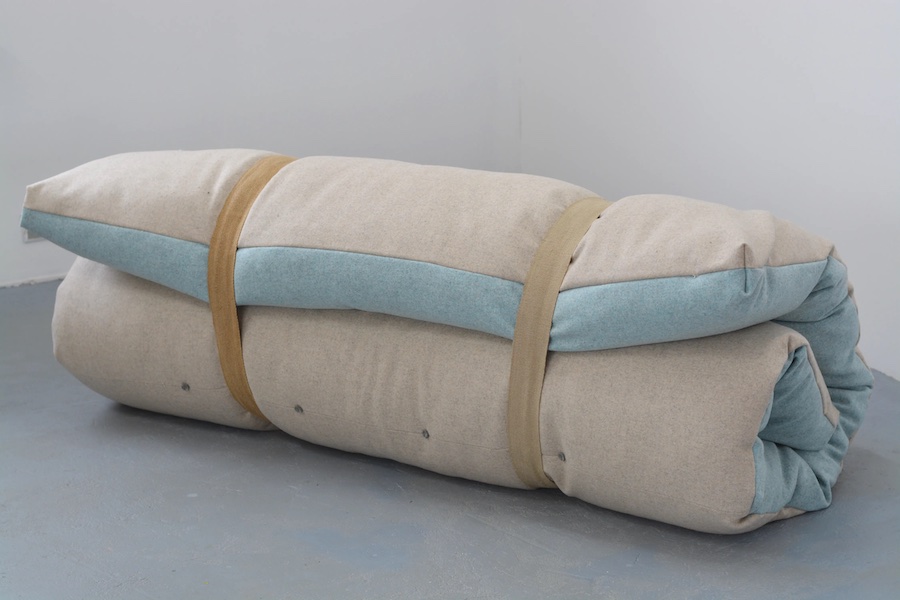 Photo credit: Ró webiste
Ró is a collaborative project between three women based in Seyðisfjörður Iceland that strives towards enriching life with physical well-being. Using Icelandic wool both as fillers in mattresses and duvet as well as outer fabrics.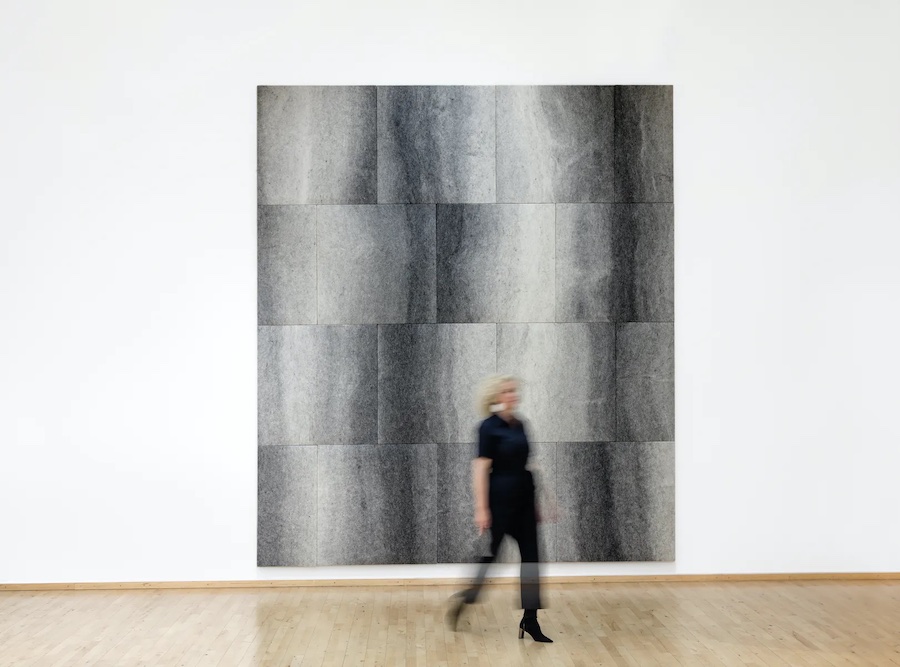 Photo credit: Kúla By Bryndós Bolladóttir
Kula by Bryndís is an Icelandic designer working with Icelandic sheep wool and felt technique to make a sound vibration isolator. The Icelandic wool has both very long hair, which are thick and rough, and short hair, which are soft and thin. These two types of fibres are: inner fibres, which are soft, fine and highly insulating and outer fibres, which are long, glossy and water-repellent. This fibre combination increases the air in a wad of wool improving its ability to absorb vibration. We then use a soft felting technique making sure that these properties are not lost by densifying the material too much.
Ullarthon¶
The Ullarthon was an Icelandic wool-themed idea/invention marathon ("ull" = Icelandic for wool) hosted by the Icelandic Textile Center in collaboration with Innovation Center Iceland, funded by the Agricultural Productivity Fund. Fund. Idea marathons are about finding innovative solutions to a specific challenge or topic, in this case: Icelandic wool. The Ullarthon aimed to support sustainable wool innovation and product development, and help increase the value of Icelandic wool, especially the classes/categories least profitable today. The event itself was held online March 25. - 29., 2021, with over 100 participants submitting 63 ideas in four categories (challenges): - Utilizing unprocessed wool - Wool mixes and blends - Product innovation - Digital solutions and traceability
The winning teams were:
BIOPOL, Skagaströnd lab¶
BioPol is a marine biotechnology company established on September 2007. It is located in Skagaströnd in Northwest Iceland. The goal of the company is to examine the biota of Húnaflói-bay, undertake research in the field of biotechnology and support innovation in the field of marine biotechnology. Moreover, the company intends to undertake the marketing and sale of products and services based on marine resources. Here is more info about Biopol. BioPol and The Icelandic Textile Center are in close collaboration looking into innovative biologial and sustainable ways to develope texitiles.
Experience of the Ambassador¶
TextileLab Iceland community
DESIGN MARCH¶
ARTIST TALKS & EXHIBITION¶
SHEEP FARM¶
LOCAL MATERIAL MAPPING¶
KNOWLEDGE EXCHANGE¶
---
Last update:
November 16, 2022